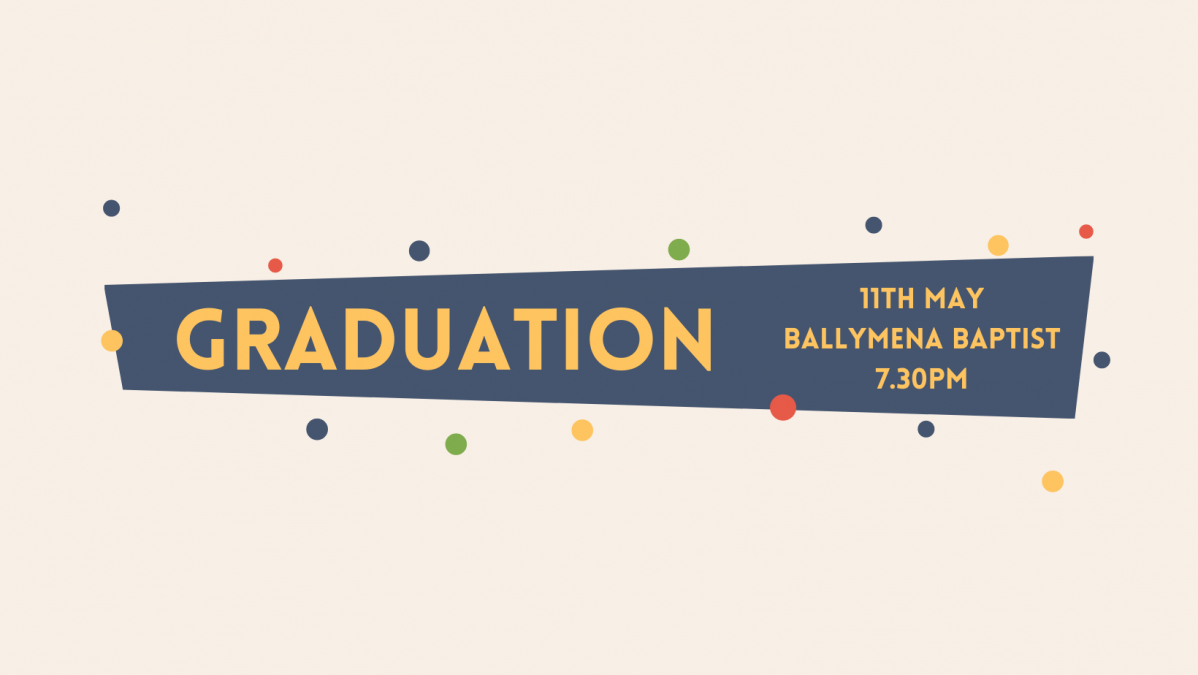 The College Graduation
By Tim Houston
The College celebrated its annual graduation service in Ballymena Baptist. Association President Mark Patterson warmly welcomed those who had gathered from across Ireland to congratulate the many students for their successful completion of studies. He commended the importance and blessing of theological education with the words of Thomas Watson: "knowledge is the eye that must direct the feet of obedience." All were challenged to consider if there was a call of God on their own life to study at the College.
Graduating student chairman Richard Donnan reflected on the dual blessings of partnership and fellowship in the gospel during his time at College on the Preparation for Ministry course. That he could declare those three years to be the most significant in his personal spiritual formation and growth in the Lord is testament to the positive impact College life has had on him. Pastor John McDermott similarly reflected on his postgraduate studies with thankfulness and shared some of the topics he focused on and why.
How refreshing it was when our Principal Edwin Ewart commented on how Paul's charge to Timothy is the same charge the College seeks to fulfil, namely to depend on "the grace that is in Christ Jesus," and to "entrust to reliable men" those things learned from the Lord. We were encouraged both to praise God for those graduates who know God's direction for their next stage and to pray for those who are unclear regarding their future. The former have known the prayerful support of the College as they enter ministry, and the latter leave with the assurance that their connection to the College has not been severed as a result of their graduation. Ongoing support and godly guidance is available to them as they seek God's will from those who have taught, prayed with, and mentored them.
All were richly blessed by Pastor Richard McConnell's exposition of God's Word from Hebrews 10:19-25. Pastor McConnell demonstrated that the writer to the Hebrews offers us all a 'graduate's send-off' with three instructions. Christ's disciples are to keep our eyes fixed on our Great High Priest as we seek intimacy with God, keep holding tightly to the faith and keep gathering to encourage each other. These three instructions were applied to everyone present in a way that was both encouraging and convicting.
As we left the place of worship for a time of fellowship around a cup of tea and delicious buns, we did so with the convicting words of the closing hymn, 'Facing a Task Unfinished,' ringing in our ears to renew before God's throne "the solemn pledge we owe thee to go and make thee known." We had all been suitably challenged to do just that whether we remained in College for further study, had graduated, or were involved through partnership in the Association of Baptist Churches in Ireland. We all have a mandate to go and make Jesus Christ known, for He is the only name under Heaven given by which we must be saved, and no one 'graduates' from their need of Christ.