Evangelism Teams 2023: Coleraine and Keady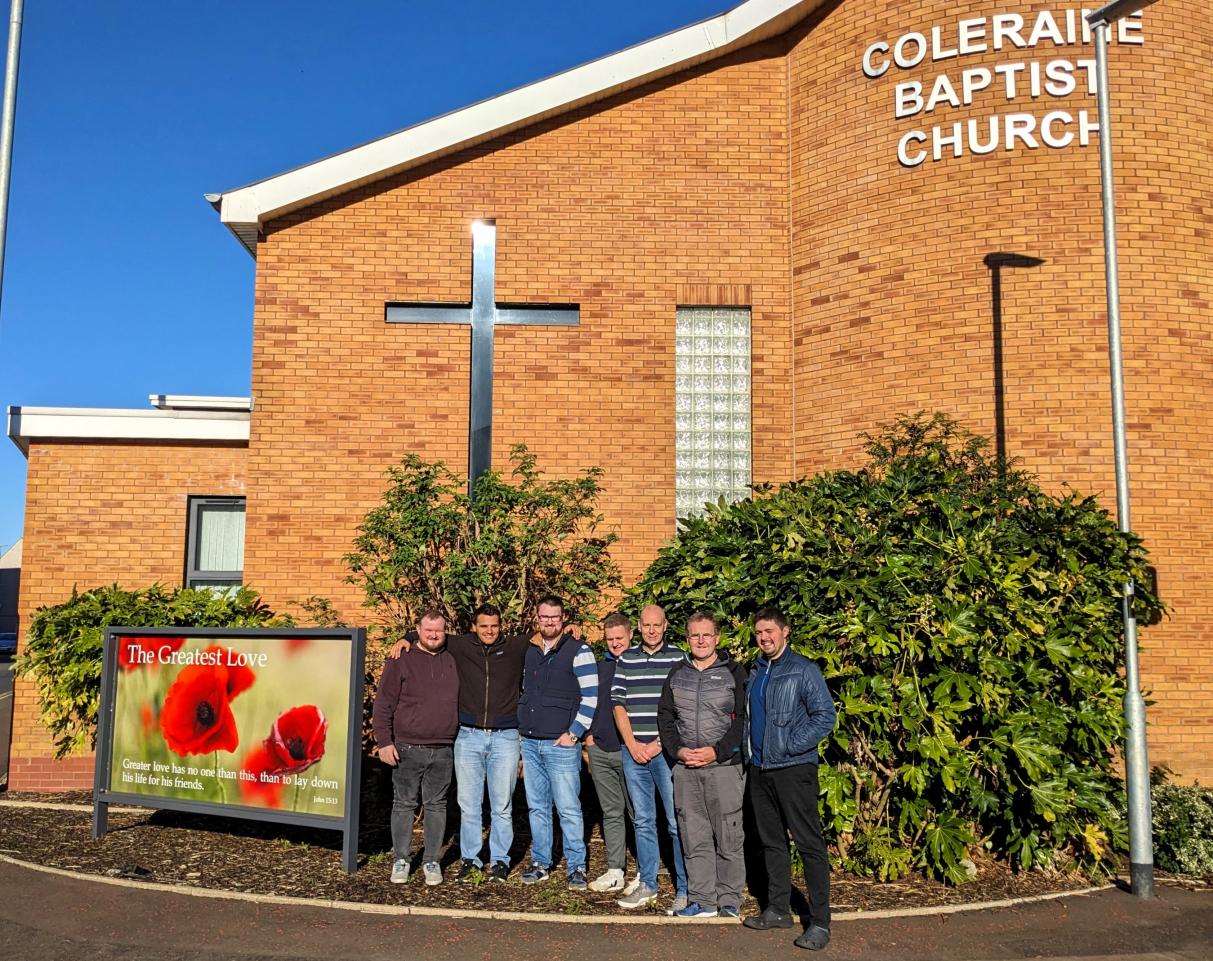 Evangelism Teams 2023: Coleraine and Keady
Each year the College students split up in to teams and partner with a local church to help them for a week with outreach and evangelism. This year our students went to Castlederg, Coleraine, Keady and Tobermore. This week we'll hear from the Coleraine and Keady team and next week's blog will be written by the Castlederg and Tobermore teams.
Coleraine
By Alan McCartney
Evangelism Week is a highlight of the year for students at the Irish Baptist College. It is a time to put what we are learning into practice and to experience the joys and challenges of outreach first hand. Our team was assigned to serve at Coleraine Baptist Church, a vibrant and welcoming community.
Under the guidance of Pastor Ben Davis, we agreed on a few objectives for the week:
To support and encourage the church in its regular weekly ministry.
To experience and engage in the church's ministry to schools, asylum seekers and refugees, older people, and through door-to-door work.
To gain ministry insights from experienced workers.
To glorify God, encourage and get to know one another.
We participated in a wide range of activities during the week, including:
Sharing in the Sunday service, youth fellowship, men's night, Safe Haven, and midweek Bible study and prayer meeting
Assisting the church in its reach into schools, participating in school assemblies and Scripture Union groups
Helping with the church's ministry to refugees and asylum seekers, assisting in teaching English and welcoming newcomers to the area
Talking to people on their doorsteps, distributing literature and sharing the gospel
We also had the opportunity to learn from experienced workers, including renowned artist Ross Wilson and Child Evangelism Fellowship's North-West Europe Director Stephen Chambers. Both speakers shared valuable insights on how to use the arts in evangelism and how to plan and organise children's and youth outreach in a church context. At the end of the week, Pastor Ben Davis gave a reflection on his time in ministry. He shared his experiences, challenges, and lessons learned. These insights were invaluable to us as we prepare for our own ministry journeys.
Reflecting on the week, we are grateful for this opportunity to partner with Coleraine Baptist Church and to reach out with the gospel. We witnessed and experienced Christian love and compassion, and we learned the importance of perseverance, planning, and lateral thinking in seeking out gospel opportunities.
We are thankful to Pastor Ben Davis and Coleraine Baptist Church for praying, hosting, and investing in us. This Evangelism Week was a time of learning, sharing, and growing for us as students and the church. It was a reminder of the importance of working together to reach people with the Good News of Jesus Christ.
We trust that the Lord will bless the work that was done during the week and that the Gospel will continue to spread in Coleraine and beyond.
Keady
by Joel White
Our recent evangelism trip to Keady Baptist, led by Pastor Paul McAdam, was a deeply encouraging week. The team consisted of Andrew Moorcroft, Glenn Gilmore, Nathan Lyons, Bruno Fortes, and Joel White.
Keady Baptist, situated at the heart of Keady town, addresses a predominantly Roman Catholic community with limited evangelical presence. During lockdown, Paul used social media to engage with the community and answer questions about God, faith and the Bible through videos. Recognising this as an opportunity, our evangelism team focused on a new video campaign titled "What does the Bible say about…?". The week was marked by door-to-door work; inviting the public to submit questions to the church. This led to many fruitful conversations.
Wednesday's outreach took us to Castleblayney, just 15 minutes from Keady, where we conducted a questionnaire about heaven and offered "3 steps to Heaven" tracts. The team was encouraged by the openness and curiosity towards what the Bible had to say.
Evenings were spent sharing meals with church families, which was a blessing for the team. The church's outward focus was evident in Wednesday night prayers that extended beyond their congregation. We saw the fruit of this when we met Francey and heard the miraculous story of God's transformation in his life. Through prayer, invitations, and care from church members, God called him to himself.
The team benefited greatly from the time spent with Paul. His honest insights into ministry was both a challenge and encouragement for all of the students on the team. Overall, we were inspired by what God is doing in Keady through the local church.
Please pray for the church as they continue to establish themselves in the town, that they will see fruit from the recent door to door work, and that God will continue to give them hearts for evangelism.